Pontos Winches
PONTOS WINCH – GRINDER
PONTOS manufacture a 4-speed GRINDER  (and an automatic 4-speed TRIMMER)  for day sailing or racing, both designed to improve sail handling and reduce winching effort.
The GRINDER is an automatic 4 speed winch designed to sheet in "hands free" on all sheets, halyards and furling lines. The result is 700mm of line recovered in just one turn of the winch handle in first gear allowing faster tacking, hoisting and furling with the sheet fully wound into the self-tailer.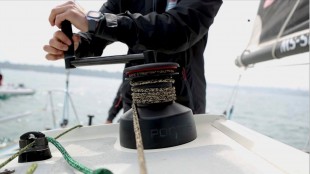 Pontos Winch – TRIMMER
The Automatic TRIMMER has 2 additional gears which reduce winching effort and these automatically adjust from the line load. The result reduces winching effort by 50%. The Trimmer is 100% mechanical, more affordable than an electric winch and gives safety and comfort in any conditions.